Case study
AI Health Check ChatBot for an Insurer
BACHcode works with a China insurance company in Hong Kong, where our AI Health Check is integrated as one of the major features for her health mobile app for here insured clients. BACHcode AI Health Check is a solution with a set of statistical and prediction algorithms derived from big data of health. This helps to trigger her insured clients their healthy lifestyle. This is a very engaging way to connect with clients and reduce medical claims.
AI Health Check Chatbot Demo
Client:
a China Insurance Company
Location:
Hong Kong, China
Services:
AI Health Check
ChatBot Design
Big Data Analytics
Machine Learning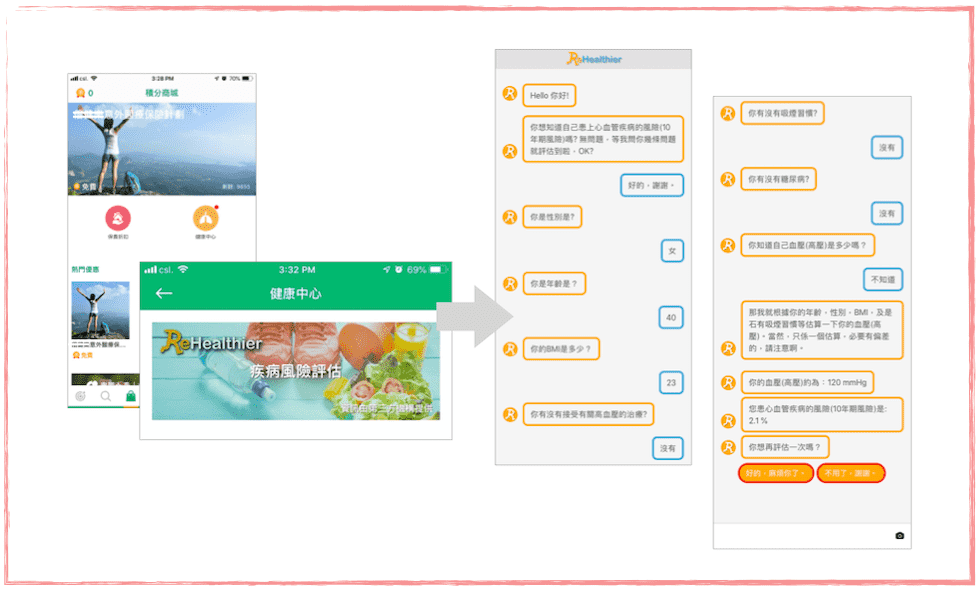 BACHcode uses Big Data to AI Health-Check a Person
Our Approaches:
Big Health Data
AI Health Check algorithms by analysed around 50,000 people health profiles
Data Mining and Modeling
With the algorithms, end-user input their (1) anthropometric (weight, height, age, etc) and (2) habitual data (hours of sleep, exercise, water drink, alcohol), then a AI Health Check report will be provided instantly.
Clients Benefits
Health Check results: user bio-data such as blood pressure, fasting blood glucose, cholesterol level, triglycerides, etc. And Long term chronic risk summary.
Insurers Benefits
Insurers can understand health risk of end-users and enrich the end-user profiles, which can further works with the recommendation system to recommend a suitable insurance product
Have project in mind? Let's discuss
Get in touch with us to see how we can help you with your project